Main content starts here, tab to start navigating
Menus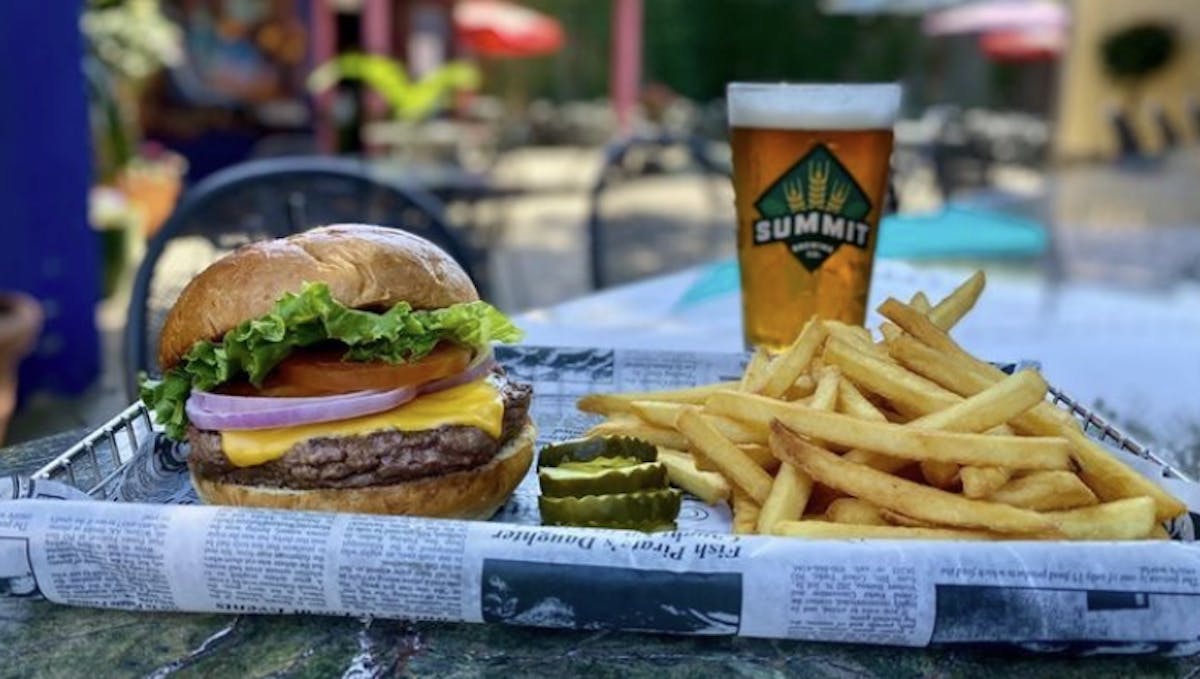 Slide 1 of 8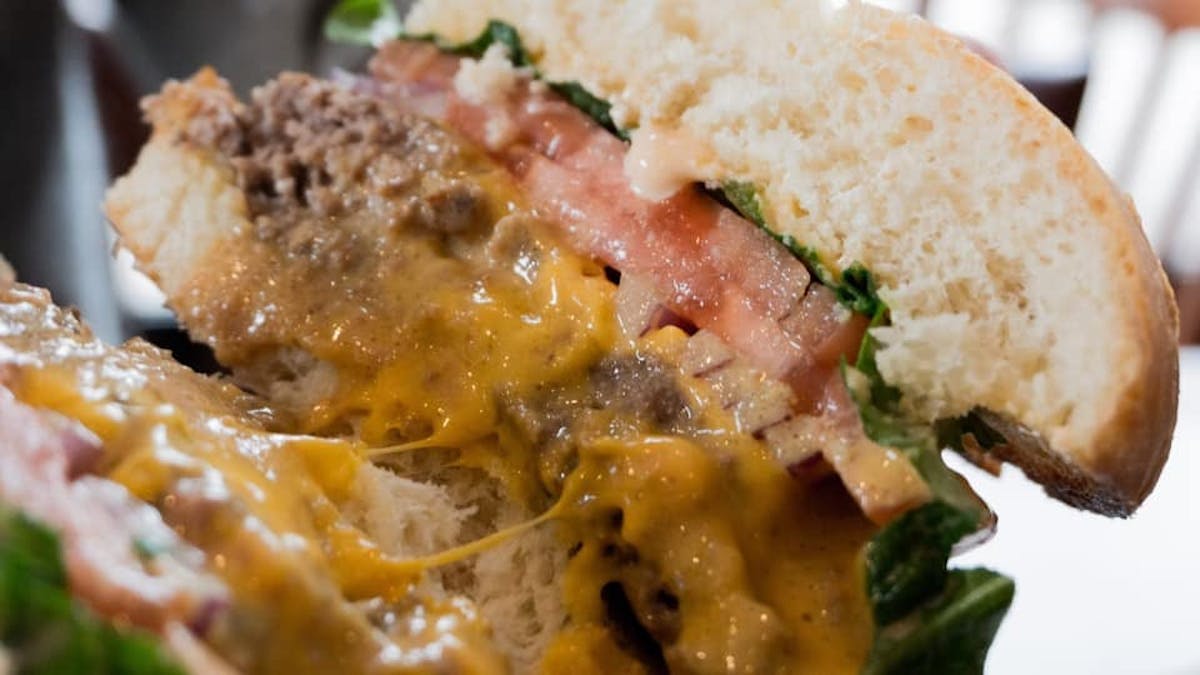 Slide 2 of 8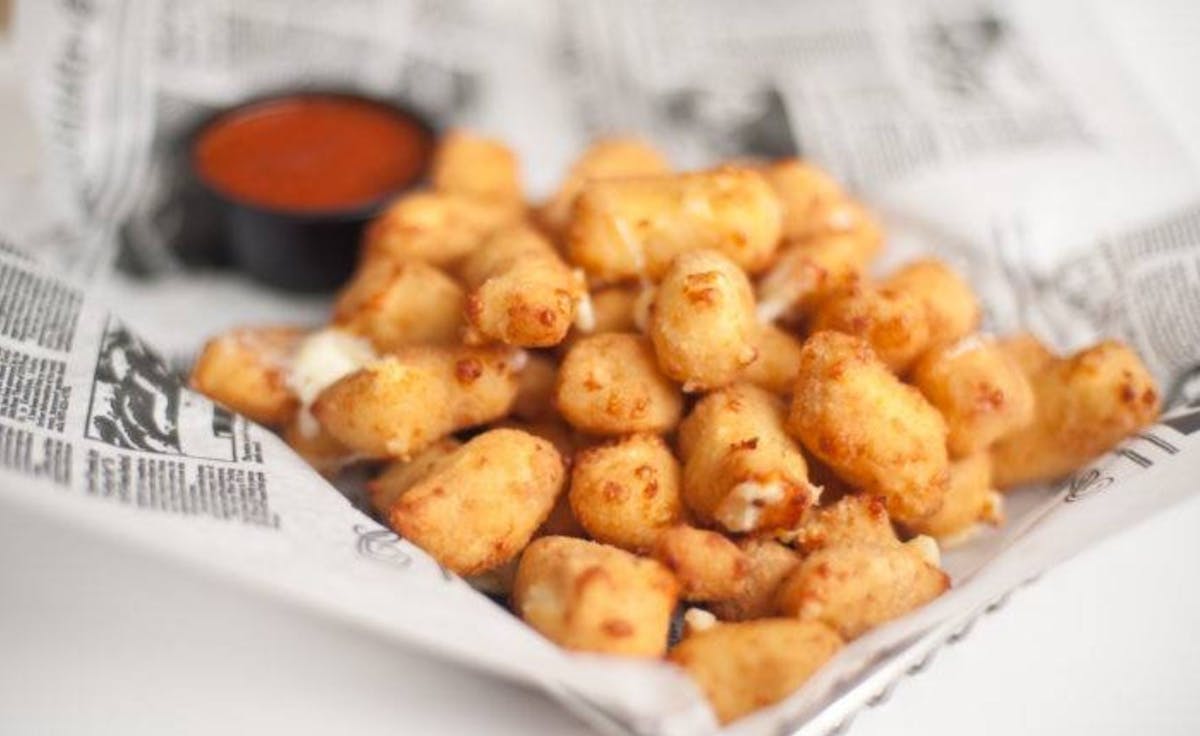 Slide 3 of 8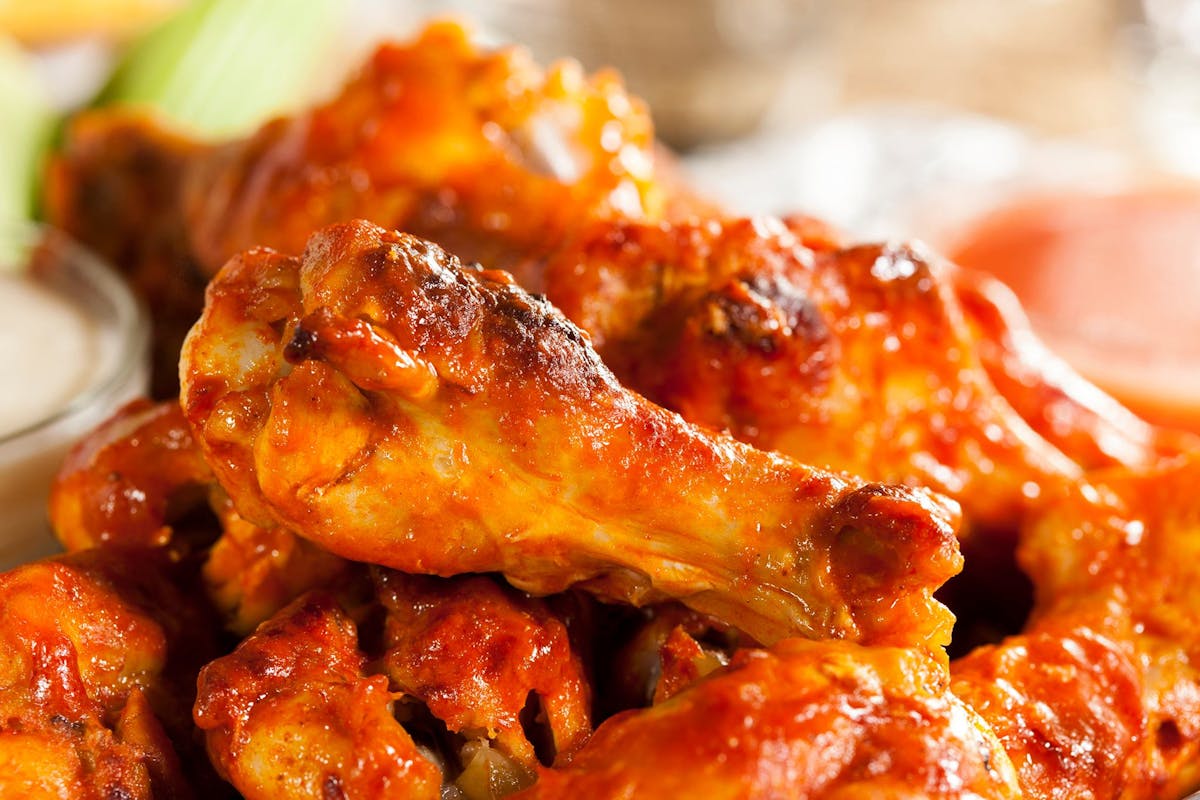 Slide 4 of 8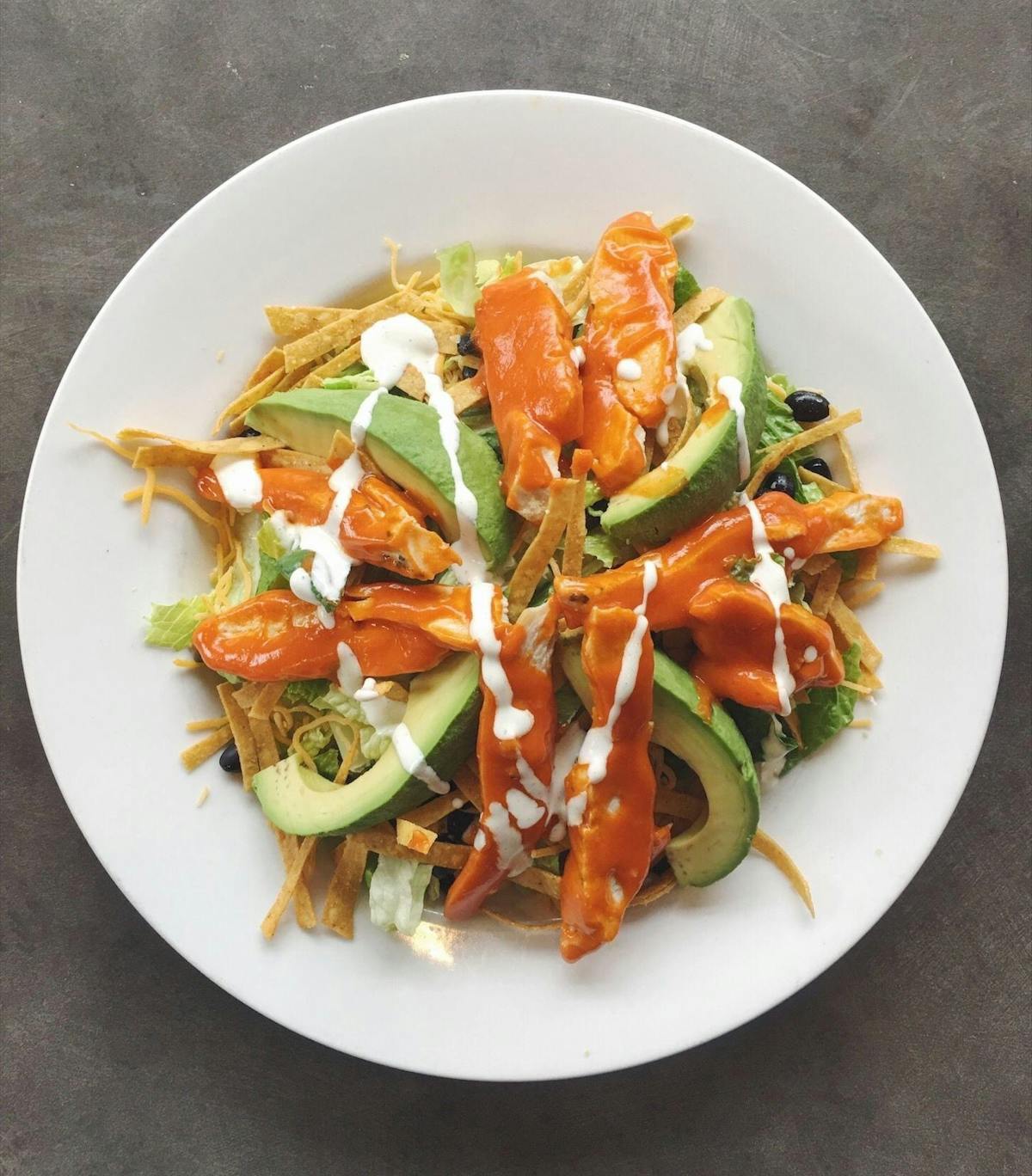 Slide 5 of 8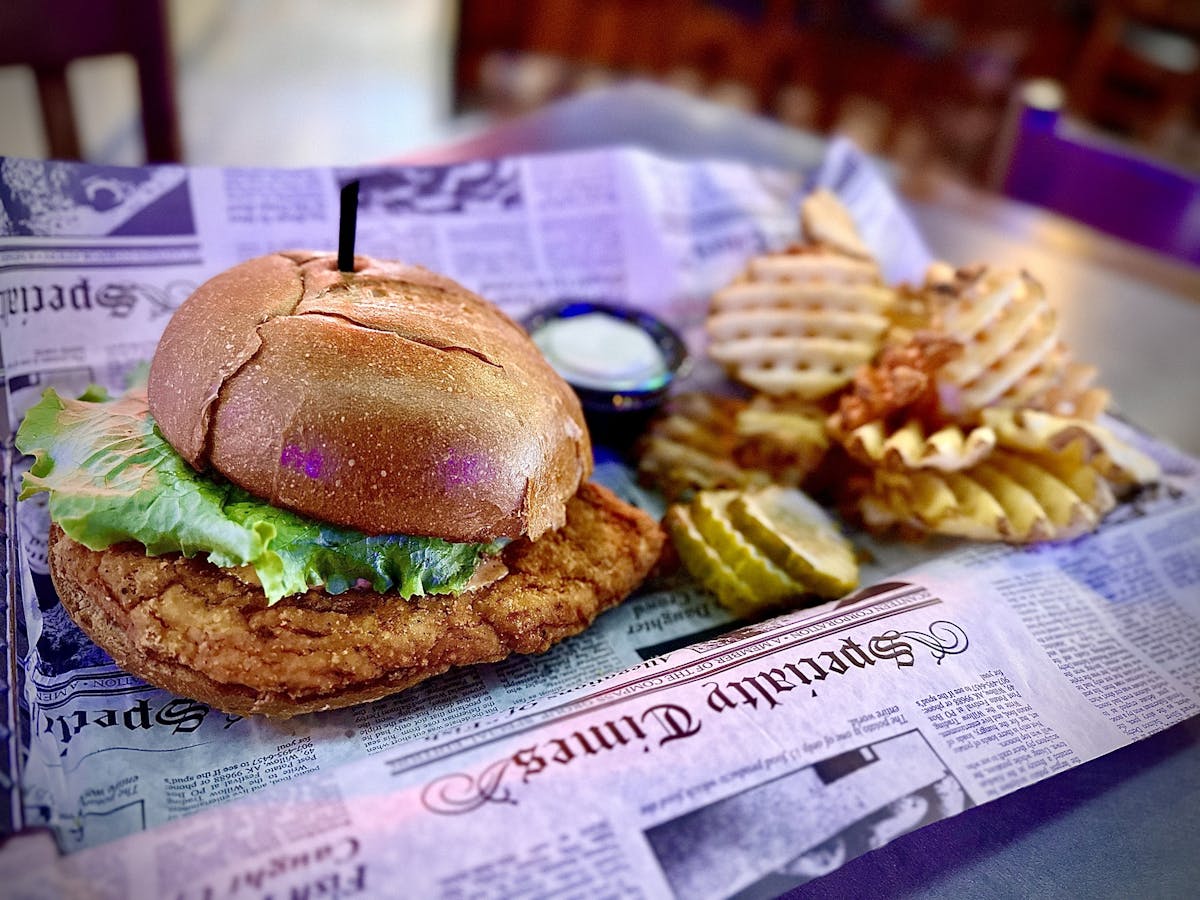 Slide 6 of 8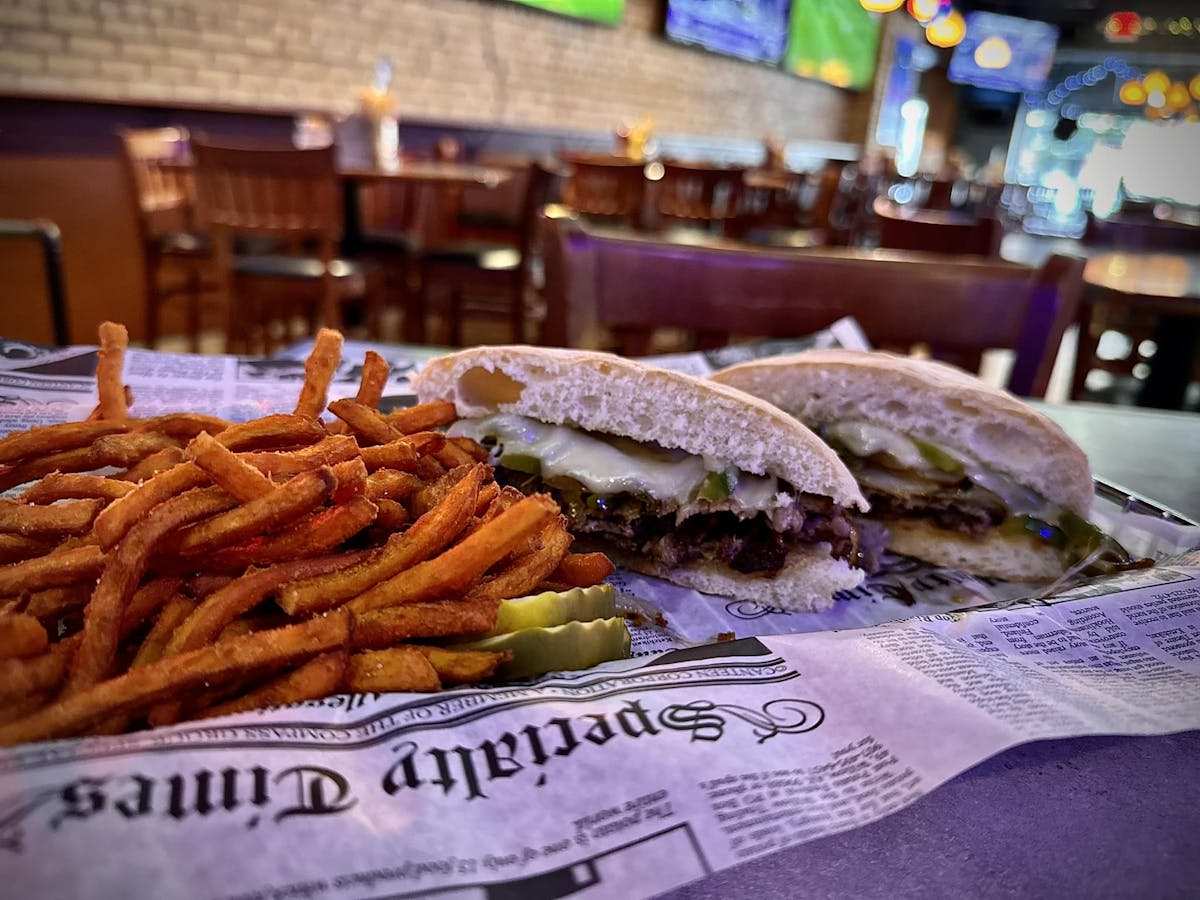 Slide 7 of 8
Slide 8 of 8
Starters
Coconut Shrimp

Hand-breaded butterfly shrimp, golden fried to perfection & served with pina colada sauce

$12.95

Mini Corn Dogs

Basket of battered snack-sized corn dogs

$8.50

Tuscan Fries or Tots

Moe's fries or tots tossed in extra-virgin olive oil, seasoned with garlic, herbs, & parmesan

$9.50

(AGF)

Waffle Fries

Waffle-cut Idaho potatoes served with seasoned sour cream

$8.95

Potato Tots

Served with BBQ sauce & ranch

$8.95

(AGF)

Battered Mozzarella Cheese Sticks

Served with house-made marinara sauce

$10.50

Jumbo Stuffed Tater Kegs

Cheddar, bacon & chives. Served with ranch dressing

$10.95

Sweet Potato Fries (AGF)

Served with bleu cheese dressing

$8.95

Beer Battered Wisconsin Cheese Curds

A state fair favorite perfected at Burger Moe's! Served with house-made marinara & ranch

$10.95
Onion Rings

Beer battered & served with ranch dressing

$10.50

Toasted Ravioli

A St. Louis classic stuffed with cheese, lightly breaded then deep-fried to a golden brown. Served with house-made marinara

$9.50

Nachos

Fresh tortilla chips topped with Monterey Jack cheese, cheddar cheese, lettuce, black beans, guacamole, jalapeños & sour cream

$12.50

Choice of herb-grilled chicken or seasoned ground beef $3.50

(AGF)

Chicken Strips

Lightly breaded & golden fried to perfection! Served with BBQ sauce or ranch

$12.50

Fried Pickle Chips

Served with ranch dressing.

$9.95

Jalapeno Poppers

Breaded & stuffed with cream cheese. Served with ranch dressing

$10.50

Beef Sliders

Caramelized onions & chipotle aioli

$8.95

Fries

$6.50
Burgers
All burgers are served with lettuce, tomato, red onions & chipotle aioli on a fresh, locally baked bun with a side of three pickle slices & cooked medium unless otherwise requested.
All burgers come with a side of french fries. Gluten/free bun is available for +$2.95.
Substitutes: tuscan fries, tuscan tots, waffle fries, sweet potato fries, potato tots, + $3.50 | onion rings, fruit cup, side salad, jumbo stuffed tater kegs, mozzarella cheese sticks, cheese curds +$4.50
Classic Cheeseburger

Served with American cheese

$11.50

Moe's Original Burger

Caramelized onions & cheddar cheese

$12.95

Juicy Moe Burger

Our signature burger with a cheesy-filled gooey center. Extra napkins are required!

$14.50

Cowboy Bison Burger

7 ounces of lean bison patty smothered with smoked BBQ sauce, cheddar cheese & fried onion straws

$15.95

Denny Burger

Topped with a fried egg, thick apple smoked bacon & cheddar cheese

$14.95

Father Kevin Moore's Ultimate Burger

Sliced corn beef, sauerkraut, Swiss cheese, thousand island dressing & a jumbo onion ring on top of two 8 oz. patties

$21.95

Cajun Burger

Green peppers, mushrooms, onions, Swiss & cheddar cheeses

$14.95

Fun-Guy Burger

Loaded with sautéed mushrooms & Swiss cheese

$13.95

Beach Burger

No bun here! An 8 oz. fresh burger patty with cheddar cheese & tomato on a bed of lettuce.

$11.95

(AGF)

Lamb Kofta Burger

Spiced ground lamb topped with crumbled feta cheese, tzatziki sauce & chermoula

$15.95
Jack Daniels Burger

Topped with a sweet whiskey onion jam & melted pepper jack cheese

$14.50

Mad Onion Burger

Smothered with a pile of fried onion straws & cheddar cheese

$12.95

Salmon Burger

Salmon patty seasoned with fresh herbs & topped with roasted red peppers, green onions & citrus dill remoulade

$14.95

Sante Fe Burger

Monterey Jack cheese, salsa & avocado

$14.95

Chief Axtell Burger

Sharp cheddar cheese with apple smoked bacon

$13.95

Taco Burger

8 oz. taco seasoned patty with taco chips, jalapeños, melted cheddar & mozzarella cheeses

$14.50

Bleu Sky Burger

Grilled mushrooms & balsamic caramelized onions topped with melted bleu cheese

$14.50

Cultivated Garden Burger

For our vegetarian friends! Our delicious veggie patty is made with roasted veggies

$12.95

vegan

(AGF)

Kobe Beef Burger

Created specifically for the ultimate burger connoisseur! This Cadillac of ground beef is a true taste sensation, topped with cheddar cheese

$14.95

Patty Melt

American & Swiss cheese with caramelized onions on marble rye bread

$14.50
Un-Burgers & Dogs
All un-burgers are served with a side of french fries.
Substitutes: Tuscan fries, Tuscan tots, waffle fries, sweet potato fries, potato tots, + $3.50 | onion rings, fruit cup, side salad, jumbo stuffed tater kegs, mozzarella cheese sticks, cheese curds +$4.50
Buffalo Ranch Chicken Sandwich

Crispy chicken with our buffalo ranch sauce served with lettuce, tomato & mayo

$13.95

Shrimp Basket

Coconut shrimp served pina colada sauce & fries

$14.95

Chili Cheese Dog

Quarter-pound Chicago-style dog topped with cheddar cheese, onions, fresh jalapeño & homemade chili served with fries

$12.50

Chicken Strip Basket

Lightly breaded & golden fried. Served with bbq or ranch & fries

$14.95
Moe - Town Philly Sandwich

Shaved beef loaded with Swiss cheese, green peppers & onions served on a fresh ciabatta bun

$17.50

Fish Basket

Freshwater cod, beer-battered & deep-fried to golden brown perfection. Served with fries

$14.95

Texas Dog

Quarter-pound Chicago-style dog topped with lettuce, cheese & BBQ sauces served with fries

$12.50

Chicago Dog

Quarter-pound chicago-style dog topped with all the good stuff…relish, onions, tomatoes & peppers served with fries

$12.50
Wings
Enjoy regular or boneless wings tossed in your choice of one of Moe's Original Sauces!
Served with carrots, celery sticks & a side of bleu cheese or ranch dressing. Additional sauces +$0.95.
Available Sauces
Buffalo, Mesquite BBQ, Parmesan Garlic, Sticky, Honey Garlic, Sweet Chili, General TSO, Dry Rub, Nashville Hot, Mango Habanero, Plain
6 wings

$9.95

12 wings

$19.50

18 wings

$28.50
24 wings

$36.95

30 Wings

$44.95
Soups & Salads
Chopped Salad

Chopped romaine tossed with our homemade garlic Dijon vinaigrette, tomatoes, cucumbers, garbanzo beans, avocado, cheese, chopped chicken, chopped eggs & olives

$14.95

(AGF)

Chicken Cranberry Salad

Fresh lettuce, grilled & chilled chicken, feta cheese, cranberries, almonds, sliced red onions & raspberry vinaigrette

$13.50

Caesar Salad

Romaine lettuce, homemade Caesar dressing, parmesan & garlic croutons

$11.95

Grilled Chicken $3.50
Asian Chicken Salad

Tender shredded Napa cabbage, shredded carrots, red cabbage, black & white sesame seeds, chopped chicken & wonton strips tossed in sesame ginger vinaigrette

$13.95

Chili

Angelo's special homemade beef chili topped with cheddar cheese & chopped onions.

Cup $6.95

Bowl $8.50

(AGF)

Buffalo Chicken Salad

A bed of romaine topped with black beans, shredded cheddar cheese, avocado, tortilla strips, and buffalo-tossed grilled chicken served with ranch dressing.

$14.50

(AGF)
Paninis
Turkey Panini

Turkey, smoked mozzarella, tomatoes, gorgonzola & pepperoncini on Italian ciabatta served with French fries

$13.95

Turkey Club Panini

Turkey, bacon, tomatoes, lettuce, mozzarella & mayo on Italian ciabatta served with French fries

$14.50
Chicken Panini

Grilled chicken breast, tomatoes, artichoke, fontina cheese & pesto on Italian ciabatta served with French fries

$14.95
Sides/A La Carte
Side Salad

$5.50

Coleslaw

$4.95

Avocado

$5.50
Guacamole

$5.50

Fruit

$5.50

Extra Sauces

$0.95
Younger Appetite
Kids Burger

A smaller portion with or without American cheese served with fries

$6.95

Mac & Cheese

Super cheesy & creamy … a kid's favorite!

$6.95

Mini Corn Dogs

Served with fries

$6.95
Chicken Strips

Chicken strips breaded & fried golden brown. Served with fries

$6.95

Grilled Cheese Sandwich

Better than grandma's version of this classic.

$6.95

Kids' Ice Cream Sundae

Only if you're good, ok?

$4.95
Shakes/ Malts/ Smoothies
Moe's Shakes & Malts $6.95 Choose 1 or 2 Flavors
Marshmallow

Milky Way

Mint Oreo

Blackberry

Very Berry

Cheesecake

Banana

Peanut Butter & Jelly

Chocolate
Vanilla

Strawberry

Creamsicle

Oreo

Cherry

Raspberry

Dulce de Leche

Hot Fudge

Coconut
Desserts
Chocolate Cake

Layered chocolate deliciousness!

$6.95

Fresh Hot Mini Donuts

10 count

$7.95
Cheesecake

Cheesecake of the day

$6.95
Wine
Red Wine
Pepperwood Grove & California

Glass $7

Bottle $28

Finca Flichman & Argentina

Glass $7

Bottle $28
White Wine
Pepperwood Grove & California

Glass $7

Bottle $28

Lunetta Prosecco & Italy

Glass $9

Bottle $26

Bearitage Rose & California

Glass $8

Bottle $30

Dr. L Riesling & Germany

Glass $9

Bottle $36

Sanama Sauvignon Blanc & Chile

Glass $7

Bottle $28
Beer
We're confident in saying burger moe's has the best selection of beer in saint paul. Maybe even Minnesota. With our 60 beers on tap (60!) and 30 bottled varieties, burger moe's is saint paul's official beer heaven.
We always try to showcase local beers from Minnesota and Wisconsin brewers. At any time of year, we'll have several options from light and crisp pilsners to rich and robust stouts.
What's more is, we have the best happy hour in Saint Paul. Every day from 3-6 and 9-close, all pints are $4. Coors Light pints are $3.50. So, if you love beer, come to our pub and give our lineup of beers a try. you're sure to find something familiar, something new, and always delicious.
*(special excludes short-pour brews, 8%+ beers, and days with Xcel center events)
Alaskan Amber

5.3% ABV | Brewed in Anchorage with glacier-fed water & the finest hops. Rich and long on the palate, this amber is the perfect "alt" style beer

Amber

Bauhaus Wonderstuff

5.1% ABV | Setting a new standard for light lagers and aptly named. Minneapolis Bauhaus strikes again!

Lager

Belching Beaver Peanut Butter

5.3% ABV | Easy drinking silky-smooth milk stout with cascading aromas of roasted peanuts, dark chocolate, and coffee. Vista, CA

Milk Stout

Bell's Two Hearted

7.0% ABV | Kalamazoo to you, this regional powerhouse sports grapefruit and pine aromas, featuring west coast Centennial hops and a perfect malt balance

IPA

Bent Paddle Light Lager

4.1 % ABV

Lager

Blacklist Peach Hazy IPA

6.3% ABV | We at Blacklist would like to jump on this crazy, hazy train and see where the tracks lead. Duluth, MN

IPA

Boulevard Tank 7

8.5% ABV | Beginning with a big surge of fruity aromatics and grapefruit-hoppy notes, the flavor of this complex, straw-colored ale tapers off to a peppery, dry finish. Cider - Sociable Cider Rotator - Minneapolis, MN. Cider - Minneapolis Cider Co. Rotator - Minneapolis MN

Saison Ale

Blue Moon Belgian White

Ale 5.4% ABV | A wheat beer brewed with Valencia orange peel for a subtle sweetness and bright, citrus aroma. Denver, CO

Wheat

Cherry Chouffe

8.0% ABV | The aroma of Cherry CHOUFFE gives pride of place to cherries. It also reveals notes of strawberry, almond, spices, and sweet Port. Ardennes region of Belgium in thevillage of Achouffe

Ale

Deschutes Fresh Squeezed IPA

6.4% ABV Savor every drop of tropical refreshment with this juicy blend of citrusy hops balanced by a lively malt body. Bend, OR

IPA

Dogfish Head 90 minute IPA

9.0 % ABV | Rich pine with fruity citrus hop aromas and a strong malt backbone. Milton, DE

2x IPA

Downeast Unfiltered Cider

5.1% ABV | Original Blend - Juicy and Sweet, Boston, MA

Cider

Duvel Single Fermented Belgian Golden Ale

6.8% ABV | Brewed in Belgium with two-row summer malts and Noble hops, then dry hopped with Citra, Duvel single fermented is crisp, beautifully balanced, and remarkably refreshing. Belgium

Ale

Fair State Mirror Universe

7.0% ABV | New England style double dry hopped and hazy IPA. Soft, with a hint of tangerine and pineapple-melon finish. Minneapolis, MN

Hazy IPA

Firestone Mind Haze

6.2% ABV | From the coast of California comes Mind Haze, a free-spirited beer made to elevate your perceptions—juicy yet balanced, hazy yet lasting, and loaded with an imaginative array of tropical hop flavors.

IPA

Finnegan's Irish Amber Ale

4.75% ABV | The flagship Irish AmberAle that started it all. Full-flavored, medium-bodied, with a caramelly, malty finish. MPLS, MN

Amber

3 Floyds Zombie Dust

6.5% ABV | This intensely hopped and gushing undead Pale Ale will be one's only respite after the zombie apocalypse. Created with our marvelous friends in the comic industry.

Pale Ale

Fulton Blood Orange Seltzer

5.0% ABV | For all those times when you're looking for something that's cold, crisp, light, and a totally refreshing fruit-filled flavor explosion. Those times call for Fulton's new Hard Seltzer. Brewed with cane sugar and real fruit. OH! One more thing, it's gluten-free!

Seltzer

Fulton Lonely Blonde

4.8% ABV | Medium-bodied, fair complexion, and pleasantly lacy white bread. Thanks, MLPS

Ale

Golden Road Mango Cart

4.0% ABV | Light, refreshing, tart finish. Los Angeles, CA

Wheat

Guiness Extra Stout

4.2% ABV | You're kidding? You've never had one? Really? Dublin, Ireland

Stout

Kona Big Wave Golden Ale

4.4% ABV | An easy drinking refreshing ale. Kailua Kona, HI

Ale

Lagunita's IPA

6.2% abv | raging hop character engages the imperial qualities of the malt foundation in mortal combat on the battlefield or your palate. Do not wait for the movie. Petaluma, CA

IPA

Left Hand Milk Stout

6.0% ABV | The creaminess entices your palate... brown sugar and vanilla cream aroma, and a hint of roasted coffee on the tongue. Colorado

Stout

Loon Juice

6.0% ABV | Medium sweetness. Spring Valley, MN

Cider

McKenzie's Black Cherry Cider NY

5.0% ABV | Sweet cherry, West Seneca

Cider

Modist False Pattern Pale

Ale 5.5% ABV | A soft, very hazy pale ale brewed with a grip of oat malt and juicy hops. Minneapolis, MN

Ale

New Belgium Voodoo Ranger IPA

7.0% ABV | Bursting with tropical aromas and juicy fruit flavors from Mosaic and Amarillo hops. Fort Collins, CO

IPA

Pacifico

4.5% ABV | Clean, hearty, exceptionally drinkable pilsner. Anahuac, Mexico

Pilsner

Pryes Brewing Rotator

4.8% ABV | Ask server for current offering

Sour

Pryes Raspberry Sour

4.8% ABV | Raspberry, passion fruit—crisp and approachable, Minneapolis, MN

Sour

Remedy Brewing - Queen Bee

7.3% ABV | This delicious concoction floats like a butterfly but stings like a bee. It pours out a clean golden yellow reminiscent of waves of barley flowing in the South Dakota breeze. Utilizing generous proportions of locally sourced honey, this beer surprises you by drinking clean and sweat while finishing at crisp 73% ABY It'll leave you with a full but snappy mouthfeel delicately balanced with noble Czech and mildly citrus American hops

Cream Ale
SUNDAY FUNDAY
$4 Any Pint* - All Day
*Exclusions may apply
Sierra Nevada Sunny Little Thing

5.0% ABV | Bask in the sunny little thing, a wheat ale made with citrus for radiant flavor that's bold yet easy going, and balanced by a soft and smooth finish

Citrus Wheat

Sociable Cider Werk's Rotator

Ask server for current offering

Cider

Stella Artois

5.0% ABV | Belgian beer with deep roots and a wide reach. With its floral aroma, well-balanced malt sweetness, crisp hop bitterness, and soft, dry finish Stella is the world's #1 selling Belgian

Lager

Summit EPA

5.3% ABV | Thirty-five years of local craft beer excellence. Modern-day pioneer Mark Stutrud opened many doors for local and regional brewers, and his flagship English Pale Ale has led the charge. Caramel biscuit hops balanced with a juicy citrus hop bite are the hallmark. St. Paulites have enjoyed many-a-pint

Pale Ale

Surly Furious IPA

6.1% ABV | Fire up your taste buds: citrus, pine, and caramel toffee! Another local POWERHOUSE! Minneapolis Proud!

IPA

Sweetwater 420 Extra Pale Ale

5.7% ABV | This beer is our most popular brew, it Is a tasty West CoastStyle Pale Ale with a stimulating hop character and a crisp finish

Pale Ale

Truly Hard Seltzer Wild Berry

5.0% ABV | Naturally sweet flavors of juicy Califarnia strawberries, raspberries, and Marion blackberries. Boston, MA

Seltzer

Twisted Tea

5.0% ABV | Hard iced tea made with real brewed tea. Cincinnati, Ohio

Hard Tea

Humble Forager Pin Seeker Pilsner

4.2% ABV | This brew is a collaboration with one of the best pilsner makers in all the land, Fair State Brewing Cooperative. Waunakee, W

Pilsner

Summit Oktoberfest

6.5% ABV | Inspired by the ultimate beer celebration and crafted in the classic Marzen style. St. Paul MN

Marzen

Schell's Oktoberfest

5.5% ABV | A Marzenthatis true to German tradition, it is only brewed once a year to celebrate the fall harvest. New Ulm, MN

Marzen

Millstream Oktoberfest

6.2% ABV | Hillstream's Oktoberfest is similar to our Vienna-style Schild Brau Amber, but it has more flavor, is maltier, and darker in color. Amana, IA

Marzen

Sam Adams Octoberfest

5.3% ABV | Our version of this classic style blends rich malts for a hearty, smooth flavor with notes of caramel creating a brew that's perfect for the season, or whatever you're celebrating. Boston, MA

Marzen

Bud Light

4.2% ABV| Brewed using a blend of premium aroma hop varieties, both American-grown and imported and a combination of barley malts and rice.St, Louis, MO.

Lager

Dogfish Head Punkin Ale

7.0% ABV | A full-bodied brown ale with smooth hints of pumpkin and brown sugar. Milton, DE

Pumpkin Ale

Fulton Octoberfest

5.3% ABV | German Style Festbier. Minneapolis, MN

Fest Bier

Lift Bridge Mango Blonde

4.75% ABV | The aroma of a tropical breeze from a fresh mango grove leads into a light bodied blonde ale. Stillwater, MN

Blonde

Ska Checkered Future IPA

7.0% ABV | Utilizing cutting-edge hopping techniques that offer bright, juicy hap aromas and flavors with a smooth finish and low IBUs. Palisade, CO

IPA

Pipework's Blood of the Unicorn

6.5% ABV | One sip of this aggressively hopped red ale clearly reveals what drives these, the greatest of, hop heads of lore. Chicago, IL

Red Ale

Castle Danger Maple Marzen

5.7% ABV | Maple Marzen blends traditional German malts and hops with local maple syrup. Two Harbors, MN

Marzen

Ayinger Oktober Fest-Marzen

5.7% ABV | Rich, amber-goldencolor. Deep, inviting, malty nose and bready, wonderful flavor that's an ode to barley. Aying, Germany

Marzen

Sierra Nevada Wild Little Thing

5.5% ABV | Slightly sour Wild Little Thing has just the right smack of tartness for serious refreshment, while guava, hibiscus, and strawberry lend fruity-sweet depth and a bright pop of color. Chico, CA

Sour

Ommegang All Hallows

7.6% ABV | Aromas and flavors of dark chocolate, creamy peanut butter, and a soft vanilla finish swirl with a smooth body and medium mouthfeel. Cooperstown, NY

Stout
Tall Boys and Bottles
16 oz cans
Corona

Corona Premier

Hamm's

Heineken

Modelo Especial

Miller Light

Coors Light

Bud Light

Budweiser

Michelob Golden Light

Angry Orchard
Spiked Seltzer
White Claw

Mango or black cherry

High Noon

Variety of flavors

Truly

Strawberry lemonade
N.A. Brews
Heineken 0.0%

Sam Adams Just the Haze

Kaliber
Choose Any–Just $15 (Minimum Order of $75 required) — **Pick-up Only**
Menu:
Burgers (Served With French Fries)
Cheese Burger
Veggie Burger
Beach Burger
Salmon Burger
Un-Burgers (Served With French Fries)
Buffalo Ranch Chicken Sandwich
Chicken Strip Basket
Fish basket
Salads
Chicken Cranberry Salad
Chicken Caesar Salad
Asian Chicken Salad
Buffalo Chicken Salad
Paninis (Served With French Fries)
Turkey Panini
Turkey Club Panini
Chicken Panini
Drinks
Can of–Coke, Diet Coke, or Sprite
Bottle of Water
What Do You Get?
(1) Your Selected Meal
(2) Your Selected Drink
How to Order? (please allow for 24 to 48-hour notice)
Call 651-222-3100 & ask for Eddy, Tony, or Moe